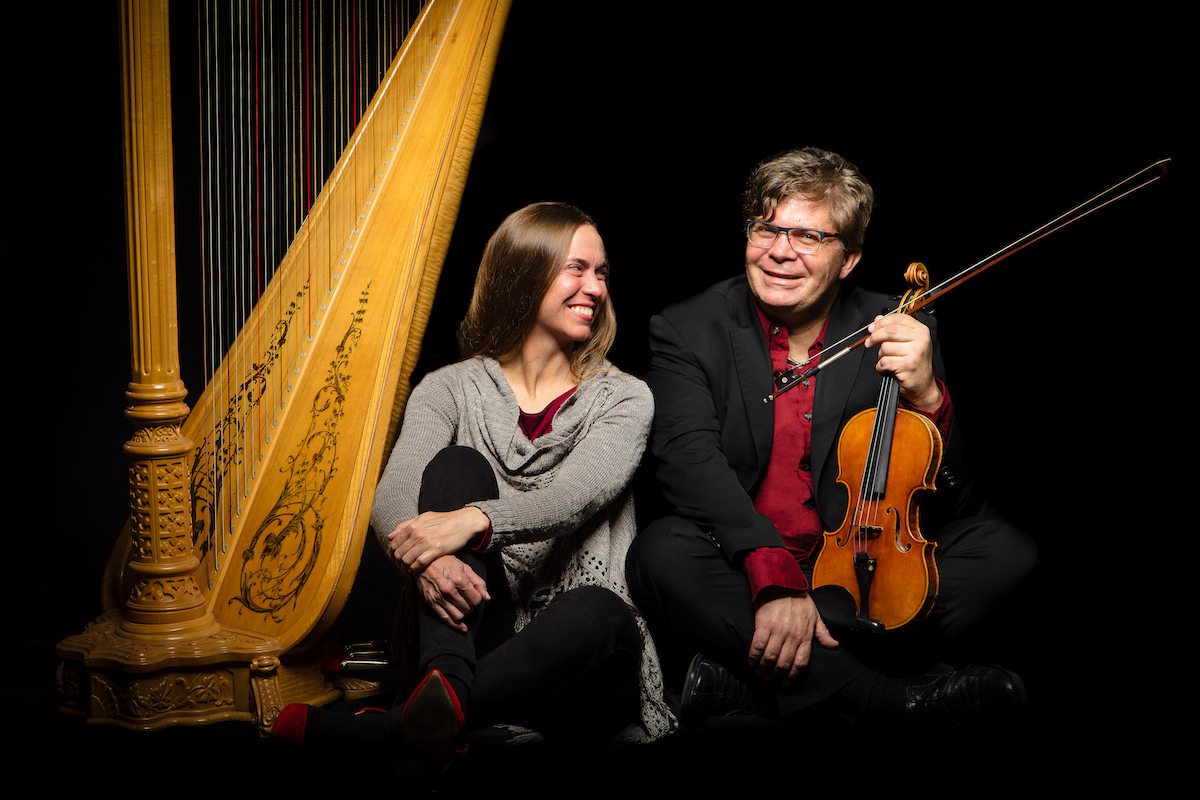 During ten years of performing together, they have been featured in recitals in Hong Kong, New York City, New Orleans, Atlanta, and have releasedtwocompactdiscs, Crimson (2016) and Renderings (2019), featuring works commissioned by the duo. Collaborative composers include Libby Larsen, Paul Patterson, Gary Schocker, Patricio da Silva, and Kirsten Soriano.
JAYMEE HAEFNER is the Associate Professor of Harp and Director of Graduate Studies for the University of North Texas College of Music. Dr. Haefner has performed worldwide (Los Angeles, Colorado, Mexico, the Czech Republic, Russia, Hong Kong, New York City, New Orleans, Atlanta). She regularly writes for The Harp Column and has published two books: The Legend of Henriette Renié and One Stone to the Building: Henriette Renié's Life Through Her Works for Harp. She has served on the AHS Board of Directors and Foundation, the World Harp Congress, the USA International Harp Competition, and has adjudicated harp competitions world-wide (USA, Hong Kong, Italy). She holds BM and MM degrees from the University of Arizona, and the DM degree from Indiana University Jacobs School of Music.
MATTHEW MILEWSKI joined the Fort Worth Symphony Orchestra in 2010 and performs regularly with the Dallas Symphony Orchestra. He has performed on numerous soundtracks including Extremely Loud and Incredibly Close, True Grit, and Did You Hear About the Morgans. After studies with Julia Bushkova at the Interlochen Arts Academy, Matt attended Indiana University for undergraduate studies in performance and earned a Performer Diploma under the tutelage of Yuval Yaron. He received his MM in orchestral performance from Manhattan School of Music, where his teachers included Glenn Dicterow, Lisa Kim and Yoko Takebe.
"My only disappointment … is that I longed for more."
Alison Young, Harp Column magazine
"The recording is perfect…"
Colin Clarke, Fanfare Magazine
"The music is thoughtfully composed and sensually played…"
Joel C. Thompson, Cherry Grove Music Review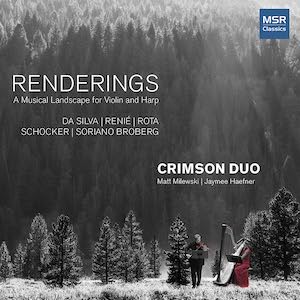 2017 Performance at World Harp Congress, Hong Kong
Recital for Chamber Music International
2016 Performance of Raga by Shankar
Larghetto by von Wilm, at American Harp Society National Conference, New York City
Music for Violin and Harp by da Silva, Astraios Chamber Series, Dallas
Flutter by Soriano-Broberg, at Northwestern State University, Louisiana
Reviews
"My only disappointment in this lushly recorded album is that I longed for more."
—Alison Young, Minnesota Public Radio and Harp Column [2016]
"Caviar for the ears, a rare and delightful, tasty and tangy complement to a cocktail party, came to me as I first listened to 'Renderings: A Musical Landscape for Violin and Harp'... The music is thoughtfully composed and sensually played "tête–à–tête" in a conversation between the harp and violin... A listener may benefit from more than one listening to this recording to fully appreciate its overall content, which also involves engagement with nature and inspiration from scenic photographs [in the booklet]."
Joel C. Thompson, Cherry Grove Music Review [June 2019]
"This Crimson Duo disc has fine sound that equalizes the levels of violin and harp. The playing is sensitive and virtuosic as well... you would enjoy owning [this CD]."
Maria Nockin, Fanfare [November/December 2019]
"The unfamiliar sound combination of violin and harp is a major attraction on a new MSR Classics release... Violin and Harp Music by Patricio Da Silva offers a series of interesting contrasts and provides both violin and harp with opportunities for some virtuoso showcasing... [the Sonata for Flute and Harp by Nino Rota] gives Matt Milewski and Jaymee Haefner plenty of chances to blend their respective sounds with skill and beauty."
Mark J. Estren, InfoDad [June 2019]
"Milewski's tone is simply beautiful, while the overall impression is of a long vocal line. The recording is perfect; every nuance is captured of the harp, but the placement is natural and, importantly, not too close."
Colin Clarke, Fanfare Magazine [Jan-Feb 2018]
World premieres for violin and harp
…snow haze, moonlight by Libby Larsen (world premiere)
2022  American Harp Society National Conference · Sioux Falls, South Dakota
The Dust in my Eyes, the Cracks on my Hands by Jeffrey Paul (world premiere)
2022 American Harp Society National Conference · Sioux Falls, South Dakota
Aqua Luminous by Kirsten Soriano Broberg (world premiere)
2022 American Harp Society National Conference · Sioux Falls, South Dakota
Canonic Crimson by Paul Patterson (world premiere)
2018 Philadelphia chapter of the American Harp Society · Philadelphia, Pennsylvania
Flutter by Kirsten Broberg (world premiere)
2017 World Harp Congress, Hong Kong Academy for Performing Arts · Hong Kong, CHIN
Still/Nervous by Gary Schocker (world premiere)
2017 World Harp Congress,  Hong Kong Academy for Performing Arts · Hong Kong, CHINA
Music for Violin and Harp by Patricio Da Silva (world premiere)
2016 American Harp Society National Conference · Atlanta, Georgia